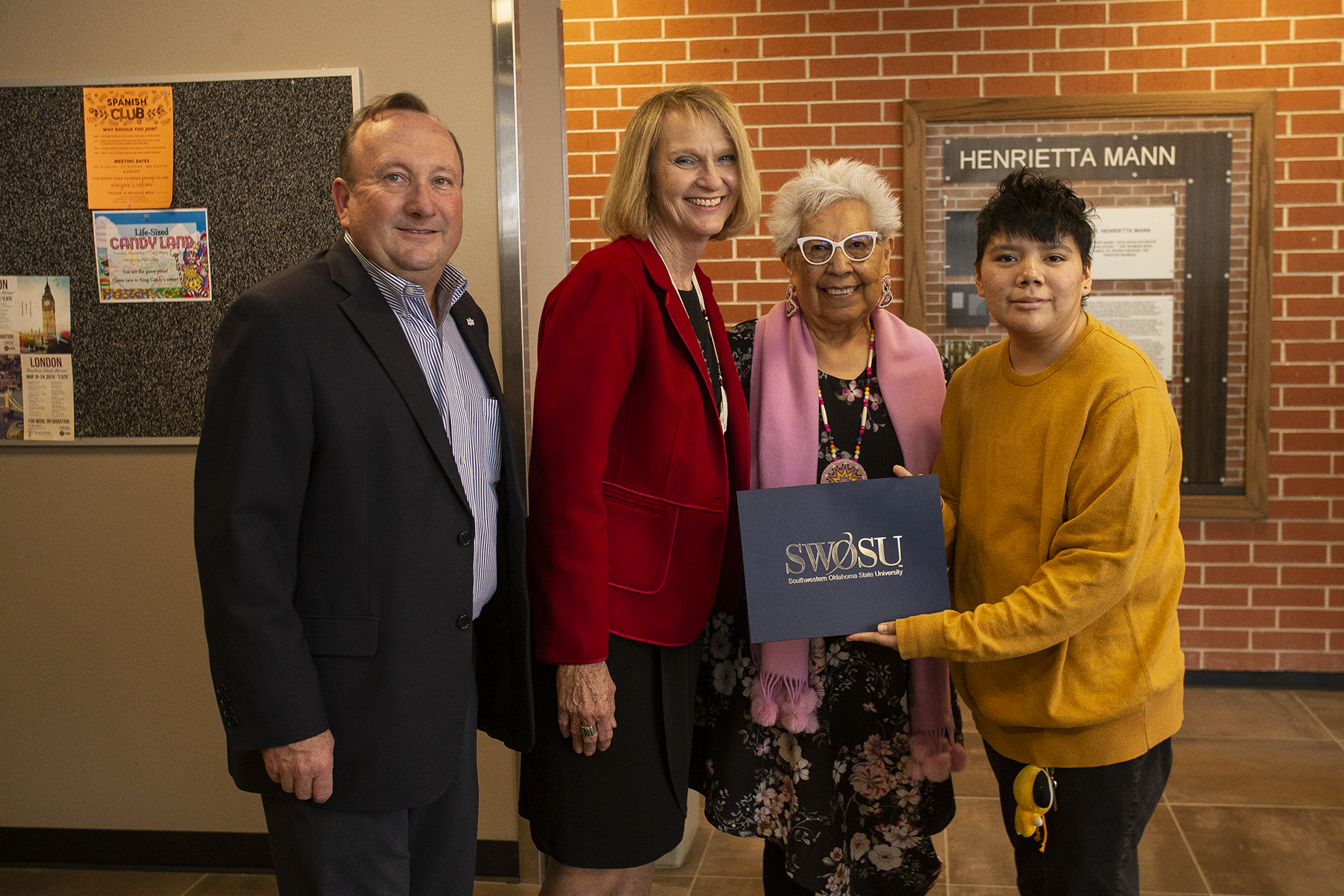 Dr. Randy Beutler, president of SWOSU, Cynthia Rives, UMW board member, and Dr. Henrietta Mann, Cheyenne spiritual leader, stand with scholarship recipient Tana Heapofbirds.
November 20, 2018 | OKLAHOMA CITY
United Methodist Women put their commitment to healing relationships with indigenous peoples into action on Nov. 17, 2018, by providing a $1500 scholarship to a Cheyenne student attending Southwestern Oklahoma State University.
Cynthia Rives, a UMW director and member of the North Texas Annual Conference, presented the scholarship to Tana Heapofbirds, a graphic design student and Cheyenne descendent. The scholarship was giving in remembrance of the Cheyenne people who died in the Washita Massacre 150 years ago. The gift also coincides with the 150th year of ministry for United Methodist Women.
In 2012, The United Methodist Church's governing body held an "Act of Repentance Toward Healing Relationships with Indigenous People" service. Since then, the United Methodist Women created a working group to make sure the promises made to indigenous peoples are not forgotten.
"It is in my heart that the Act of Repentance needs to be something real," said Rives. She said the UMW's Act of Repentance working group uses the scripture in Matthew 3:8 about John the Baptist as the foundation for their work.  In it, John the Baptist asks what are the fruit of your repentance? "The scholarship is one small way we are showing faith, love, hope and action."
"The United Methodist Women really have been leaders in helping United Methodists remember their promises to indigenous people," said the Rev. David Wilson, Oklahoma Indian Missionary Conference Superintendent. Wilson says UMWs have attended and participated in all three of the immersion experiences OIMC has hosted at the Washita Massacre site in Cheyenne, Oklahoma. "We hope others will also remember their promises and continue to support Native ministries."
Rives says she plans to make the scholarship an annual award.  The UMW working group is also working on the national level to create awareness about on-going indigenous issues.