Click here to support our work at Standing Rock via PayPal
OIMC Responds to Standing Rock
I have just returned home from the Standing Rock Sioux Reservation and in particular to the site where thousands of Native and non- native persons have come to stand in support and solidarity against a four state oil pipeline which threatens the water quality for the people there.
We were able to use disaster response funds from the past years to provide food, gasoline for generators and paper goods to feed the swelling camp, which ranges from 1,000 to 2,000 people. The conference also bought three large canopy tents and solar lights. Standing Rock Sioux Tribal leaders are making sure to provide three meals a day for those coming to support their cause. There were well over 1,000 persons there on the first day that we arrived. It was a peaceful, hospitable and great experience the whole time we were there.
The tribal officials, the Chairman of the tribe and workers were thankful for the presence of The Conference and we told them of the many prayers that were being lifted up for the people of Standing Rock. During the gathering times, prayers from many were lifted up for the cause and efforts by many tribal officials and persons attending.
ADDRESSING NEEDS
Many have asked about their needs for the campsite. While there, we checked with those who were distributing items for campers, etc. and asked about their needs. It appears that many donations were coming in for food, supplies, etc. The tribes that were visiting brought items with them and before we left we could see that donations continued to amass for the meals, etc.
After visiting with Standing Rock tribal officials we learned that they are responsible for the upkeep and basics such as water. There is no running water out there and water trucks have to come throughout the day to bring water for the preparation of food, etc. There are also many portable restrooms there and they have to provide those as well. All of these expenses have run into thousands of dollars each day.
It appears the greatest needs are for the tribe who is providing for the needs of their citizens and had no idea that this movement would grow so large. They are in great support of the prayer camp but also have to pay for all of the infrastructure.
We have set up an account in the office for local churches and individuals who would like to make a donation to the cause. Checks can be made payable to OIMC and can sent to our office at 602 SW 35th Street, OKC. OK 73109. Donations can also be made on our website through PAYPAL.
Thank you for your prayers and support.
Rev. David Wilson
Conference Superintendent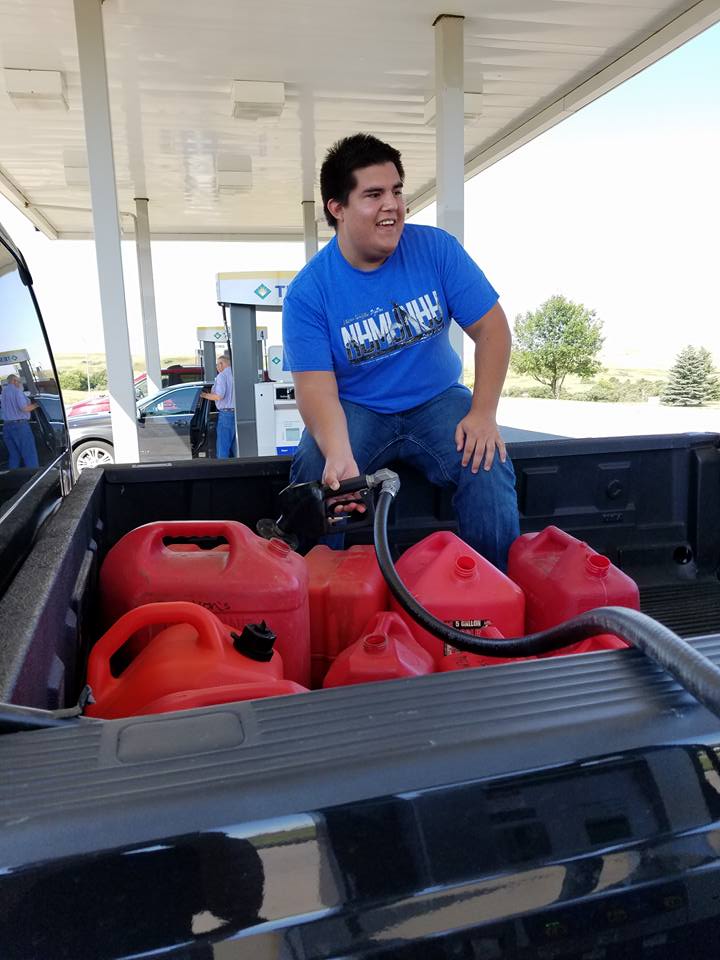 Dallas Parker filling up gas tanks for generators, etc.