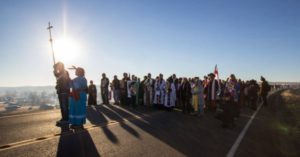 (Oklahoma City) — The Trump administration may have given the green light to the Dakota Access Pipeline, but the fight to preserve the water for the Standing Rock Sioux Tribe continues.
Native leaders in The United Methodist Church are urging members and advocates of the denomination to join them and others in a peaceful protest march in Washington Friday, March 10.
"Even though the camps near the pipeline construction have been cleared away, the issue of protecting the water remains," said the Rev. David Wilson, Oklahoma Indian Missionary Conference (OIMC) Superintendent. The main Standing Rock protest camp near the pipeline was cleared Feb. 21. "The church has been engaged in Acts of Repentance towards Native people. Now is the time to show the world our desire to be in solidarity with Native peoples in this country."
For three days prior to the march, Native leaders and allies will be lobbying lawmakers for their right to protect their homelands, environment, and future generations.  On March 10, United Methodists are invited to gather at 9:00 A.M. EST at the denomination's General Board of Church and Society building at 100 Maryland Ave. N.E., directly across from the U.S. Capitol Building.  From there, United Methodists will join the march that is to begin at The Army Corps of Engineers, 443 G St., NW, and end with a rally at Lafayette Square.  The marchers will then gather at the Ellipse where demands will be made of the new administration.
"The General Board of Church and Society is working with OIMC to help with logistics for Standing Rock organizers to use their building and also helping to make connections with their constituents and area United Methodists," said Wilson. In addition, the General Commission on Religion and Race is providing funds to help with a Thursday evening meal for 500 persons from the Standing Rock Reservation at the National Cathedral. The Baltimore Washington Conference is also helping with the meal and other logistics.
Wilson said many United Methodists have supported the Standing Rock Sioux Tribe since early 2016 through prayer, visits to the camp sites near Cannonball, N.D., and contributions of money, food and clothing.
"We appreciate how United Methodists have been a part of this movement so far," said Wilson. "We need their continued help to build awareness and support for this issue and others that will ultimately impact Native communities."
The North Dakota Pipeline would carry a half-million barrels of oil daily from the Bakken oil fields in northwest N.D. to Patoka, Ill.  Sioux leaders say the pipeline threatens the water supply that is fundamental to their existence and desecrates burial sites and sacred places through which it will pass.
On Feb. 7, 2017, the U.S. Army Corps of Engineers granted the final easement needed to finish construction of the Dakota Access Pipeline after President Trump signed an executive action directing the Corps to push ahead with the project.
Contact: David Wilson, (405) 306-8330, DWilson@oimc.og