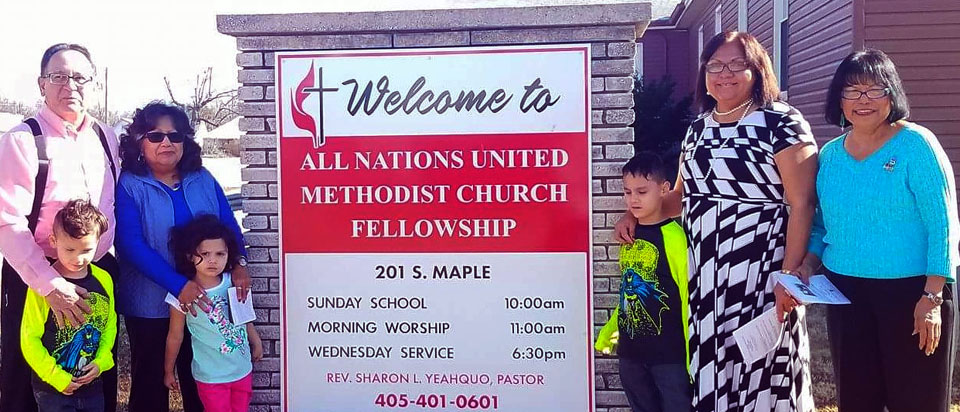 All Nations United Methodist Fellowship in Commerce, Oklahoma, is one of the newest fellowships in The Oklahoma Indian Missionary Conference. After the Former Methodist Church at Commerce closed in 2014, the Oklahoma Conference deeded the building to the Oklahoma Indian Missionary Conference (OIMC). OIMC has not had a ministry in the area of Miami, Oklahoma since the early 1900's, when the Wyandotte School was functioning. It was a boarding school run by The Methodist Church.
Rev. Sharon Yeahquo is in her second year as the pastor at All Nations. She has immersed herself into the life of the community and in the city of Miami, which is only three miles from Commerce. There are nine tribes in the area, all tribes removed and relocated in the 1800s from across the country. They include Cherokee, Wyandotte, Miami, Peoria, Ottawa, Quapaw, Seneca-Cayuga, Modoc and Shawnee tribes.   In addition to the Sunday morning services, Rev. Yeahquo spends time at the various events of the tribes including cultural events such as powwows, visiting nursing homes and serving on the board at the Wesley Center at Northeastern a&M at Miami. She also supports the Native American Student Association at NEO.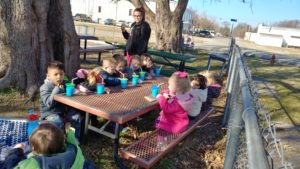 Most recently she began hosting a community breakfast at the church to help acquaint people with the church and ministry. She also enjoys visiting the Eastwood Nursing Home in the area and using her talents of playing the piano for residents.  She enjoys lunch at the tribal Senior Centers with the Miami, Ottawa and Quapaw tribes.  The church is next door to the Jelly Bean Day Care center and the fellowship has supported them through donations as well. Rev. Yeahquo continues to be excited about the ministry and reaching out more and more in the area.