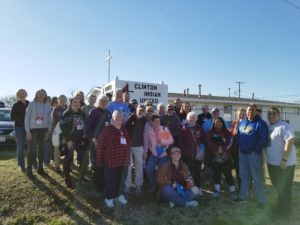 The Oklahoma Indian Missionary Conference (OIMC) welcomed a record number of participants to its third annual Native immersions experience held March 13-17, 2019 in Oklahoma City. A total of 35 United Methodists from the across the country participated in the event which shared history, context and unique perspectives of Native United Methodists.
"The purpose of doing the immersion is to help educate people about OIMC and also Native issues," said the Rev. David Wilson, OIMC conference superintendent. He said participants came from California, Michigan, New Hampshire, Texas and Oklahoma. "It seems like a small step to take with 35 people, but they go home and share in their circles such as United Methodist Women, in their Sunday School classes, and pastors that were here will preach about what they've seen and what they've experienced."

The immersion experience was concentrated around three tribal areas which are within a two-and-a-half-hour radius of Oklahoma City.  The first day participants traveled to Ponca City to visit the Standing Bear Park, which includes a 22-foot bronze statue of the Ponca leader. Standing Bear won a major civil rights decision in 1879 when a U.S. court decision determined that "an Indian is a person" with equal standing to other natural persons and entitled to the rights and protection of the law. It was a precedent setting decision that impacted Indian law for decades.
"I have always had a heart for Native Americans, and we have treated them so poorly," said the Rev. Karen Wheat from the Michigan Annual Conference. "I think every pastor in The United Methodist Church should be involved with this, it is essential."

On day two, participants traveled to the Washita "massacre" Battlefield site in Cheyenne, Oklahoma. This is the site where General George Armstrong Custer massacred 30-60 Cheyenne, mostly women and children. The massacre took place four years after the massacre at Sand Creek where Col. John Chivington, a Methodist clergyman, ordered the cavalry to charge on 160 Cheyenne and Arapaho women and children.  Participants took a 1.5-mile hike through the battlefield site.  The group then visited the Clinton Indian Church and Community Center to visit Native children and families in the community.
For Ruth Bowen, it was her second time to attend the immersion experience.  As president of First United Methodist Church's United Methodist Women chapter, she wanted to make sure she didn't miss anything during her immersion experience.

"Last year I left this and had to go home and emotionally unpack a lot of stuff that I learned and experienced while I was here," said Bowen.  "There's more that we need to do as a denomination and more that can be done. One of my things as a life-long learner is to educate other people so that is what I've done is to take back and share this experience in whatever ways I can."
Lorrie King, whose work with the United Methodist Committee on Relief includes Native projects says the immersion experience was critical for her work.

"As a professional serving The United Methodist church and serving UMCOR, what this does is strengthen my ability to be a good advocate and good program manager," said King. "It helps me make key strategic partnerships and connections.  I'm able to share what UMCOR is doing on behalf of Native American communities and to let them know UMCOR is a resource for them as well."
King reported that UMCOR has provided $2.1 million in the past two years to eight tribal nations in nine states.
On the third day, the group traveled to eastern Oklahoma for a traditional "wild onion dinner" and returned to Oklahoma City for a presentation by a local Native dance troupe.
"We learned things that you were never told in history books," reflected Bowen. "It is a fact that a lot of clergy and lay people don't even know OIMC exists. I think it real important that it be emphasized in seminaries across the country about OIMC and about the Native American nations and what their challenges are and how we can be in ministry with them."
The next Native immersion experience is scheduled for March 11-15, 2020. For more information contact the OIMC office at 405-632-2006 or via email at Dwilson@oimc.org.