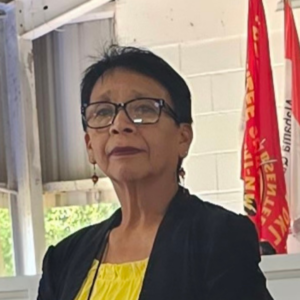 OUTREACH, in its simplest form, is about nourishing souls and
comforting hearts. Within this outreach comes the opportunity for learning and understanding the word of God. It involves being present for our brothers and sisters during their times of need. Outreach is a moment when individuals can experience the love of our Creator through our actions.


We have learned from our ancestors and those who have walked this path before us that helping one another is always a positive endeavor. I have come to understand that our annual OIMC Immersion Event is a remarkable outreach initiative. Participants come to learn about our identity and tribal history; many have never encountered a Native American person up close before, and they invariably leave as changed individuals. Another way OIMC conducts outreach ministry is by engaging with tribal schools in South Dakota. We, the people of OIMC, have experienced true outreach from our conference office during the pandemic. When the pandemic struck, many were blessed and comforted by the assistance they received—whether through Walmart cards, funds for food pantries, utility aid, children's masks, hand sanitizers, or any available help. This is just a glimpse of the support we received.
When I contemplate outreach, the words of our Creator in Luke 6:38 always come to mind and heart: "Give, and it will be given to you. A good measure, pressed down, shaken together, and running over, will be poured into your lap. For with the measure you use, it will be measured to you."
Giving is the key that opens the door to supernatural provisions. Jesus taught us that giving paves the way for others to enter our lives in OIMC. Since taking up this position, I have witnessed people giving to our conference, and I am consistently humbled as I write thank-you letters to our donors. Many have become aware of our missionary conference and our tribal nations, and they desire to support our ongoing mission, which is to bring the message of Jesus Christ to Native Americans through the United Methodist witness, ultimately contributing to the transformation of the world.
Through outreach we get to share our stories of who we are and can say "Let us embrace our everyday and put on the regalia of our new life. For we have been made new, created to look like the one who created us, standing in a good way, and walking the true and sacrwed path!  (First Nation Version).