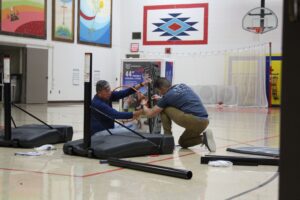 During a mission trip to deliver UMCOR School kits to Standing Rock, North Dakota in August 2021, an OIMC team came across the Little Eagle Grant School. The school, nearly an hour from Fort Yates, exists in a community where the only place of business is a United States Post Office station. Popup tents around the housing area illustrates the story of homelessness and the fact that 80 percent of residents live in extreme poverty.
"This discovery was very hard to absorb and process," said the Rev. Donna Pewo, OIMC
director of Connectional Ministry. She said she noticed an absence of playground
equipment or any type of recreation for young people in the area. Within weeks from returning to Oklahoma, Pewo reached out to the principal of the school to find out how OIMC could support the
community.
The Little Eagle Grant School is a tribally controlled school serving 65 students in K-8th grade. OIMC assembled a four-person project team including the Rev. David Wilson, the Rev. Bryan Tener, Lori Harless and Pewo. Their mission was to gather Christmas gifts and supplies for the students.
Several individuals connected with OIMC to provide the gifts including: the OCU American Indian Willis Clinic, the Hispanic Law student organization, Immigration Legal Society, OCU office of Diversity, the Koda Cross Fitness Gym and other individuals.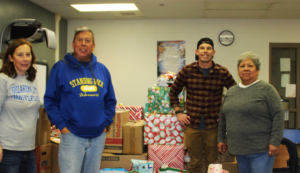 The team arrived at Little Eagle on December 10, 2021, and unloaded gifts to wrap at the school, as well as four basketball goals.
The gifts and Walmart gift cards were distributed on December 21st during the school's annual Christmas parade. The parade staff was able to share extra gifts and treat bags to under school age children within the small Native community as well.
"You all made our Christmas for the kids and they appreciate everything," said Laura Grijalva, staff member at Little Eagle Grant School.