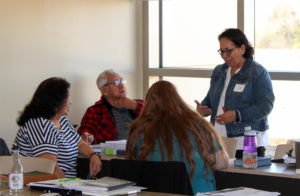 The Oklahoma Indian Missionary Conference launched its first satellite course of study class, "Bible I," on March 6, 2020. The course, hosted by The Muscogee Creek Nation, is part of a strategy to encourage part-time and full-time local pastors to move toward the ordination process in The United Methodist Church.
"The new course of study for the Oklahoma Indian Missionary Conference is unique among all other courses in that it provides theological education contextualized to meet the particular cultural and religious needs of indigenous (or Native American) United Methodists, especially those in Oklahoma," said Paul Barton, director of Perkins Regional Course of Study School.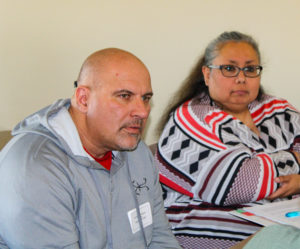 Seventeen students are enrolled in the class taught by Justine Wilson, pastor of Norman First American United Methodist Church. The courses are offered for one Saturday for three months in the spring and in the fall. Local pastors, lay missioners and lay servants in OIMC churches are eligible to take the courses.
"For part-time pastors, the satellite classes are most helpful because many of them are bi-vocational and have limited time off of work," said the Rev. David Wilson, OIMC conference superintendent. Wilson said pastors also attend the summer courses at Perkins School of Theology in Dallas and Saint Paul School of Theology in Kansas City.
"Through our collaboration with Perkins School of Theology and the General Board of Higher Education and Ministry of The United Methodist Church," Wilson said, "we are able to use our own Native American faculty who are certainly capable of teaching these courses and including the indigenous context of our tribal culture."