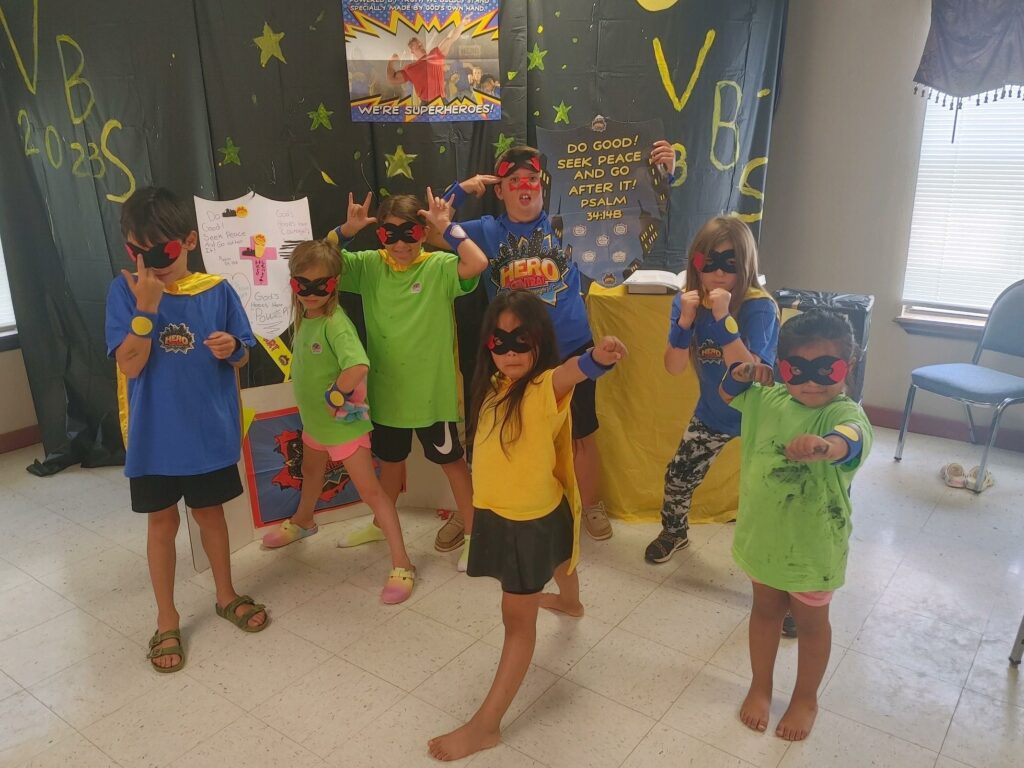 Across various regions, Oklahoma Indian Missionary Conference churches brought children together for a series of engaging Vacation Bible School (VBS) events. These gatherings, held in across Oklahoma, aimed to foster spiritual growth, teamwork, and a strong sense of community among the young participants. From exploring superhero themes to learning about Jesus' teachings, these VBS events offered a range of activities that not only provided fun but also a sense of normalcy and connection after the disruptions caused by the pandemic.
In the Southeast region, Tohwali United Methodist Church (UMC) organized their first Vacation Bible School (VBS) since the pandemic. The week-long event was filled with exciting activities including arts and crafts, story time, music, fellowship, and delicious food.
In the Northeast region, Thlopthlocco UMC hosted a VBS day focused on the theme of becoming heroes using examples from the Bible. Children learned about teamwork and the way Jesus formed his team of disciples. The participants engaged in a mini obstacle course, practicing their teamwork and guiding each other. They also used "superpowers" to navigate through pretend lasers, rescuing Barbie and demonstrating their helpfulness. The children not only enjoyed learning to follow Jesus but also crafted capes and masks to embark on their own hero journeys. They created keychains as a reminder that true heroes follow Jesus.
Moving to the Central region, the Clinton Indian Church and Community Center organized four days of VBS in July with the theme "Hero Hotline." The kids participated in various activities, such as making rhythm sticks and decorating birdhouses. They also enjoyed a water play day to beat the summer heat. The event was made possible through the efforts of New Horizon UMC and a dedicated staff who cooked, cleaned, and provided attention to the children and youth from the Clinton community. This gathering brought a sense of normalcy to the children and community, fostering a feeling of love and care throughout the week.
In the Southwest region, Little Washita UMC held their VBS on June 25th, running from 1 PM to 4:30 PM. The theme was centered around superheroes, and they had a total of 14 students attending, ranging in age from 4 to 18. The event included two stories, arts and crafts, and story times that involved older students with speaking roles, acting out plays for the younger participants.