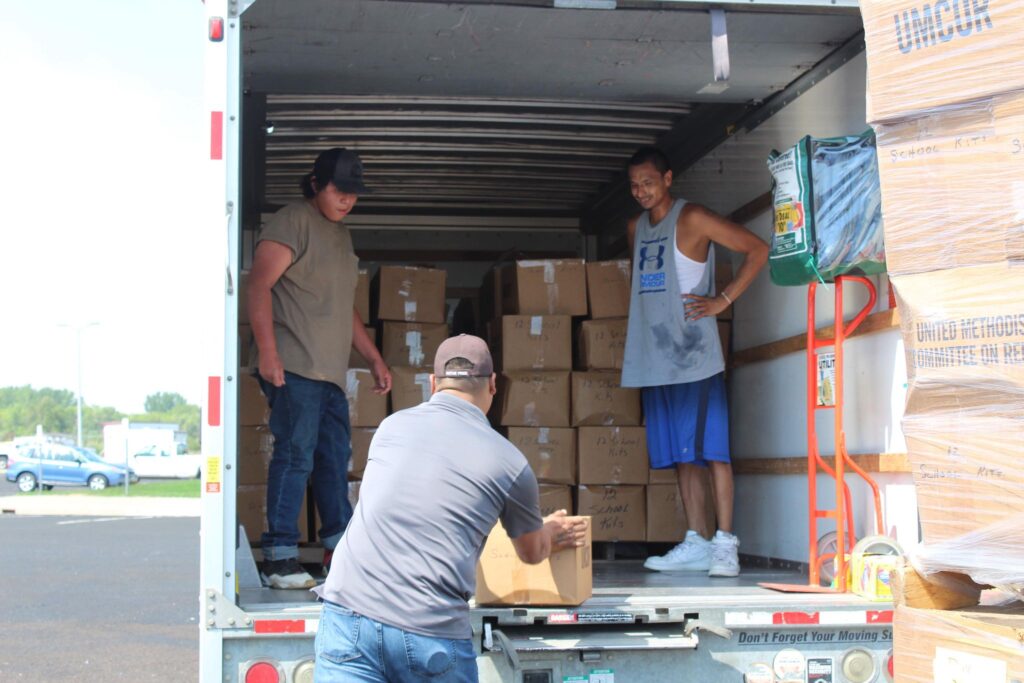 Schools on the Standing Rock and Pine Ridge Reservations received school kits through the United Methodist Committee on Relief (UMCOR) in August.
Local churches across the connection prepare the school kits to be used in areas of need. The Rev. David Wilson, Lori Harless and the Rev. Donna Pewo assisted the Standing Rock community with the delivery of 2,500 kits in two days. The General Board of Global Ministries provided a grant to assist with travel.
"The school kits were a nice surprise for those we encountered" said Pewo, Director of Connectional Ministries. "Everyone we engaged with had use for the school kits and we could also see other needs for children and youth as well."
The OIMC delegation delivered school kits to ten schools ranging from head start through middle school, including the Sacred Pipe Resource Center in Bismarck, North Dakota. The kits were delivered to the Sitting Bull College where they were separated for delivery. Pine Ridge Councilman Justin Pourier loaded approximately 1,000 school kits and other supplies to take to schools in his area on the reservation.
"We know more school kits could be used across the reservations but logistics for shipping and delivery is a challenge," said Wilson. This is the second year that the school kits were delivered to Standing Rock.
"It was very sobering to drive through a small native community that literally had nothing for children or youth as far as playground or even a single basketball goal," said Pewo. "Hopefully soon we can begin a discussion concerning needs for young people of the small communities we visited."
This was the second year that OIMC was able to help deliver the UMCOR school kits on the Standing Rock Reservation.  The pandemic prevented the deliveries in 2020.